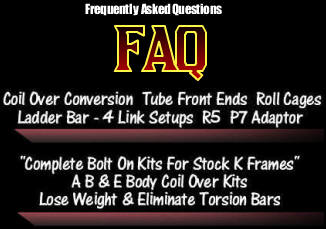 Q:Can stager/caster/camber be adjusted to then lower A arms?
A: YES, stager/caster/camber can all be adjusted on the lower A arms.
Q: How much front end travel will I have with the coil overs?
A: It depends on the coil over kit you choose to use, anywhere from 2 1/2 - 5 1/2 inches.
Q: Can I use my stock spindles and race disk brake setups with the coil over kits?
A: YES, it was designed to reuse the factory spindles and brake setups.
Q: Do I need to do any of my own fabrication to install the kit?
A: The only fabrication needed is to brace the shock tower to handle the much added load to them from the coil overs.
Q: Will the coil over kit bolt directly on to my stock K frame?
A: YES, the kit is complete with all the hardware to mount the lower A arm to your stock K frame.
Q: Will this coil over kit work on the street?
A: This kit was designed for light weight cars for the purpose of Drag Racing.
Q: How much weight can I save with this kit?
A: 24-30 lbs. It varies from A body cars to B & E body cars.